Tennis is one of the most popular sports on the planet and, arguably, the most popular individual sport. However, like with many sports, there is a debate going on regarding whether it is better to enjoy the action live or at home on TV screens and streaming services, just like there is a neverending debate whether online betting is better than 'real-life' betting – at the moment, online betting seems to be winning this debate, especially since they offer amazing bonus codes such as PokerStars bonus. But when it comes to watching sports, some people like to get comfortable, while others prefer yelling encouragement to their idols. Let's examine the advantages and disadvantages of both.
Watching at Home
When you watch tennis at home, you are allowed to enjoy your favorite events in casual clothing, with the bathroom a few feet away from you and all the snacks you can acquire at a reasonable price. It is also a great way to connect with your family and cheer together for your favorite tennis player. The commentary always follows the broadcast, informing you of the players' previous matches, feats, and potential ranking in the future.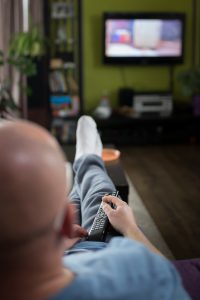 If you miss out on watching the match – there is no need to worry! You can record it or watch a rerun. Furthermore, the TV and streaming services allow you to witness the key shots over and over again through their instant replays and slow-mos. That is something live events usually can't provide.
On the other hand, some people might find the commentary vexing, there is no energy like you feel in the stands, and you are simply not there. You also need to suffer through TV ads. Still, it is a way of watching that is available to the overwhelming majority of tennis fans.
Pros:
· Cheap refreshments
· Close to the bathroom
· Affordable
· Replays and reruns
Cons:
· Not being there
· Commentary
· Ads
Watching In-Person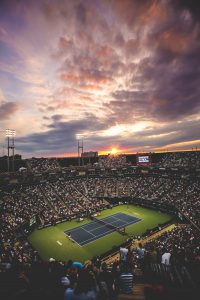 We love watching sporting events in-person, because you can see all the action for yourself, without relying on the camera to select the most interesting moments. There is nothing quite like hearing the whole stadium chant the name of your hero and their opponent, waving the flags and scarfs, and cheering to your heart's content.
That being said, the tickets are expensive, especially for the most eagerly-anticipated events, like the Open tournaments. The same goes for the refreshments and if you want to use the facilities, you are at risk of missing out on all the action, as the lines are notoriously long.
It is not a good place for the people who like to get comfortable, but it is perfect for true tennis fans who care more about the event than the comfort.
Pros:
· No ads
· No cameras
· Cheering and chanting
Cons:
· Uncomfortable
· Pricey
The Verdict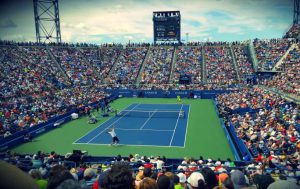 All things considered, it is much better to see tennis events live. It is no secret that either cheering or booing a player can have a strong effect on their playing style. After all, you are there because you want to be there and support a player, not because you are killing time with a few snacks.
It is not that the people watching at home don't want to go to live events as much as they are not presented with the opportunity to do so. The tickets are not only pricey, but they also get snatched away pretty quickly. Watching at home, while comfortable, is the second-best way to experience tennis.